I've updated my QuickFX module to v1.1. It adds support for (FF) RGB Offset, which is now available for free to use. A big thanks to Intrinsic for allowing me to include his plugin. The plugin is usually part of his Colmatic freeframe pack but he has graciously allowed me to include it in the module for free.
He has a whole lot of other great effects available to purchase on his website vjfx.com. Do check it out.
The module can be downloaded via Modul8's online library and Intrinsic's plugin can be downloaded from here: IscRGBOffset1_ub
Also - note that effects already included (Blacklight, Chromium & Smear) require Pete's Plugins UB installed, they can be downloaded from here.

I must say I've very excited by Apple/Intel finally bring Lightpeak (now Thunderbolt) to market. Its a standard that should really move the whole connectivity part of computers forward.
As a video producer one of the big loses on Apple laptop line was the when they dropped Expresscard slots off 15" MacBook Pros. We need a high speed connection that FW800 just can't deliver - in fact we really need two - one for a RAID for content and another for either display output (not a graphics card) or for importing.
With Thunderbolt we can have up to four Expresscard speed devices running off one plug on even the cheapest unibody laptop.
Questions that I'm sure will be answered in good time:
Why does the new 13.3" High end model list a 2.7Ghz i7 when the 17" Model uses just a i7 2.2Ghz - are they different generations in chips?
Why do all MacBook Pros still only come with 5400rpm drives by default?
How long until a hub for Thundbolt comes out? How Much? I currently have to plug in Power, USBx2, FW800, Ethernet & Displayport when I get into work in the morning - I'm eager to cut this down to just power and Thunderbolt.
How long until updated CinemaDisplays that work as the above hub?
How long until iMacs are refreshed? Using Thumnderbolt the cost of a decent edit suit just dropped significantly, as just like the MBP line, as a video producer the biggest missing part on iMacs is a fast interconnect standard.
How long until the Mini (and all the others) are updated - weeks or months?
Infact more than anything - how awesome will the MacBook Air be once they add this. Its lack of ports just won't matter.
UPDATE Engadget has more info along with some first products from LaCie and Promises - both drive enclosures - both featuring dual Thunderbolt plugs.
Now that I have my Mac Mini working seamlessly I wanted to have the normal Freeview 7 Day EPG, not just the 24hr one included in the stream. There was a handy scripted shared by Fossie on Geekzone but that was posted a few years ago and no longer works (as the geek.nz xml hosting was no longer live) so I took it on my self to fix it with the new location for the XML (now nzepg.org).
The attached Zip includes the updated script and and a compiled app of the same script. Both will do what you need to automatically download the xml.gz, uncompress and then send it to EyeTV. You can use iCal to automate it to run every week so your EyeTV is always up to date. Sweetbix.
EyeTV Freeview XMLTV Script (31kb)
In my first post I covered how to get your Logitech Harmony remote to work via a standard Mac IR port and map the buttons accordingly. In this post I show how to take those steps and use them to seamlessly let you control 2 programs from the couch.
If you're setting up something similar you might be interested in the follow steps as it took me weeks of reading and joining the dots across many forum and blog posts.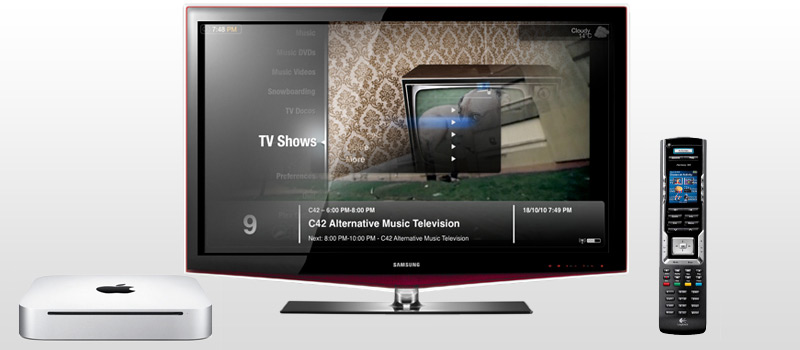 Retiring my XBOX1 and XBMC setup was inevitable. It had long since shown its 733mhz CPU was able to output HD but just didn't have the muscle to actually decode anything over SD resolution.
So when Apple announced the new Unibody Mac Mini just days before my birthday I saw it as a perfect own-gift.
The Core2Duo CPU was more than adequate to decode all codecs and resolutions and its new super thin and sexy casing was just the sugar on top. As far as I can tell its the best HTPC chassis out there - if only it had BluRay (stay tuned).
The Mini could finally give me a media centre, Freeview PVR and a rock solid *nix based NAS with the ability to run various background servers (UPnP, AirVideo, iTunes etc).
Unfortunately controlling all this from the couch was always going to require some work. OS-X's default HTPC app, Frontrow, is extremely basic to say the least.
Thankfully there are two great applications that do almost everything, the XBMC fork, Plex and Elgatos EyeTV. Both have support for the standard Apple remote, but with only 6 buttons a lot of things were inaccessible or required weird combos to get to.
As I already owned the fantastic Logitech Harmony 725 remote I was pretty keen to get it working on my new HTPC but unfortunately Apples infrared remote implementation is very limited and only supports Apple remote controls few commands via 6 buttons.
The following steps are from my fair share of reading blogs, wikis and forums on this subject and what I've finally managed to figure out to get this working as I want.
With Seagate announced their new 'Hybrid' 500gb 2.5inch Drives they claimed it could offer SSD speeds but with only a small premium on top of a normal magnetic hard drive. The drives use inline 4GB flash memory and use what Seagate calls Adaptive Memory. The firmware automatically relocates frequently accessed data and stores it on the flash memory while keeping most stuff on the the drive.
Their marketing pitches substantial improvements to most general usage situations.
I was certainly intrigued. I have wanted a solid state drive for some time but its so hard to justify the cost of a decent model and the bite in storage space does make them a far off dream.
What I find interesting with this technology is that Seagate may have now found a middle ground that could become the bridging technology we all use before SSDs reach a price per gb we can accept.
Suffice to say I splashed out and ordered a couple of XT's for the 2 MacBook Pros in our office and although I've only had one of them installed for mere minutes I thought people might be interested in a benchmark.
I ran AJA's free drive speed test program on my original 320GB Seagate 7200.3 and then 500gb XT immediately after the first boot. To be clear - I have about 250gb of data on both drives which works out to be 78% of the 320gb 7200.3 and only 50% of the 500gb XT. This alone should make some speed differences.
I will update this with a few more impressions once I've given it a good going through.
The drives are available in NZ now, I got mine via Aquilatech for $232 inc GST.
Those of you who read my blogs may have seen I'm a big advocate of Apple refurbs as a good way of getting a cheap Mac.
I check the refurb page of the Apple NZ Store most weeks, always looking for a good deal for myself or for others who are trying to get an Apple as cheaply as they can. I would love to see some other Apple products turn up - check the US Refurb page - almost every product is available with a solid discount.
Now for the randomness. Today I spotted this - a refurbished MacPro for only $6199, which is only $400 above list price of $5799. I'm not sure how this price is worked out, you have to wonder sometimes......
Apple Refurb Page

Apple Store Page

UPDATE And then the listing magically disappears after only a few hours.
UPDATE2 Spotted this one - the best deal ever? I think not.
So after following the live blogs and now reading the tech specs I thought I'd add my thoughts on this new gadget. A few things I've spotted on the Apple site not mentioned in the keynote -
Screen Res is 1024x768, 132ppi (the iphone is 163ppi). Reasonable but not stellar - I would have preferred a 16:9 1280x720 panel myself but I can imagine the raw LCD costs would have made it that much more expensive. Its good so see a good screen in it though - IPS & LED Backlighting should make this look amazing in person.
VGA connector coming soon. Supports 1024x768 - making Keynote actually usable. I imagine it will work like the current iphone TVout cables - click on a video (or now a keynote presentation) and you'll see controls on the unit and the presentation/video will come out the cable - with no OSD. No HD output (just progressive scan SD or XGA).

1GHz Apple A4 Chip. So it would seem Apple has indeed made use of them buying PA Semi a few years back. Its an ARM based processor just like the iPhone. It's a "system on chip" - so this one chip does it all the work. This is apparently very similar to a Tegra & Snapdragon chips - can you say ZuneHD and Nexus One.
802.11n. Good.

ePub support. Along with PDF support we already have on the current iPhone OS this should mean we can convert text, website to a format that we can then use. I think Kindle is the only eBook reader that doesn't support it. Go standards.
A-GPS on 3G model. The biggest Sat Nav ever?

No Phone option, new SIM standard, Data only. I know you wouldn't hold this to your face but a secondary speaker phone using its 3G capabilities maybe?
No Flash - Gruber @ daringfireball sums it all up well here. I don't think we'll ever see it on either the iPhone or iPad.
No Camera - So that means voice only skype. I think this could have become the killer app and at a low component cost - but hell they need to have something to add to the iPad 2G.


No built in USB host port, or SD card port. Apple have announced the iPad Camera Connectivity Kit though and it does give you both of these. I had hoped the iPad would remove the need to have another computer completely making it that much closer to a netbook than an iphone. The good news is though if this puppy get jailbroken (jailbreaked?) the USB port could allow for some very interesting mods and unplanned uses.
Market - When I watched the demo video, of all the people I could think of it was my mum who I think is the most likely to get one sooner than later. My parents have been making noises about a second laptop for a while now - dad was well over having to share his computer.
My mother has never been a savy computer user and has never had to learn how to use any more than the basics of a standard OS. More and more though she wants to do the basics the iPad offers - look at pics, surf the net, email people and generally stalk her children via Facebook. I think the learning curve on the iPad is about as much tech as she can handle.
Pricing seems reasonable I'm sure someone will say "I can buy a netbook for $600" but at what I assume will be $NZ799 for the low end model, its close to the same price of a similarly spec'd netbook but with a better OS (for portable internet use), screen type and case/body.
Will I get one? Maybe. My iPhone 3GS is awesome, and I'm surprised I surf the net on it nearly as much as I do on my laptop. When I replace my laptop in the next year or so - will I get an iPad and a more powerful desktop machine? It's something I've been thinking about well before the hype of this started.
No other announcments. No i5/i7 MacBookPro's, no 12 Core MacPro's, no new iLife. All iPad. I imagine there will be some spec bumps in the next week or so though.
One things for sure, I'm sure we'll all pick one up and go - I want.
On another note - the iPad comes in ladies preferred options.
I've been using a Mac for the last 4 years and I've over time built a little list of apps that must be installed. I thought I should share them here. They are all free to download or open source so go give them a try. Feel free to share some more in the comments.
App Update - A simple application update widget, in my opinion, besides currency converter, the only good widget in dashboard. It reads you Application folder against 3 update notifications sites - Apple's official software directory, MacUpdate and Version Tracker. Best thing - it just works - and well.
http://gkaindl.com/software/app-update
The Unarchiver - an open source decompressor app. For years stuffit was either preinstalled or a must download on the Mac. Over time the the program gained the usual bloat of over developed applications. Apple has included a built in zip tool for a while but it's file support was limited really only dealing with zip's. The Unarchiver, which is open source will extract RAR, ZIP, 7-Zip, LHA, SIT, HQX and TAR files to name just a few. The app has enough options to do everything you could need. To install, just drag it into your Applications folder, run once to set associations and you're done.
http://wakaba.c3.cx/s/apps/unarchiver.html
Perian - Chances are you've already got this - if not - get it. Perian is a free, open source QuickTime component that adds native support for many popular video formats. XVID, Divx, AC3, MKV, FLV and even adds subtitle support. The only thing missing is extensive WMV support - for that check the free Flip4Mac.
http://perian.org/
VLC - if you do find a video that won't play via Perian then VLC should have it covered. If you have these 2 apps installed there are few files you can't play. Personally I find VLC's interface clunky to use but as I say - it will play everything.
http://www.videolan.org/
MPEG Streamclip - Where Perian is 'the swiss army knife of video playback', Streamclip is surely the swiss army knife of video conversion. It allows for setting in and out points and will read almost every format - from malformed mpeg2 streams to xvids to quicktimes to avi's. I haven't met a clip I can't convert with this app.
http://www.squared5.com/
TextWrangler - an extremely versital text editor. Made by the company that makes BBEdit, this is a cut down yet surprisingly feature complete version. TextWrangler supports source formatting and is the one stop tool for editing HTML, PHP, plists or just about anything else.
http://www.barebones.com/products/TextWrangler/
MAX - One stop open source audio converter - it will change anything to anything else. MAX can convert over 20 compressed and uncompressed formats including MP3, Ogg Vorbis, FLAC, AAC, Apple Lossless, Monkey's Audio, WavPack, Speex, AIFF, and WAVE.
http://sbooth.org/Max/
I, along with the many people, found JJ Abhrams reinventing of Star Trek a great time. So much so I felt it more than worthy to be added to my small physical media collection. To my surprise, the pictures studio, Paramount Pictures, has started including a digital copy of the their films free. Each BluRay copy comes with a third DVD and note with a unique key printed on it.
I thought it would no doubt involve some horrible DRM and playback system, no doubt dropped or outdated a year from now. You can no doubt believe my surprise that the code really is really just a redeem code for iTunes Store. If you brought the movie in iTunes separately you'd be looking at $24.99.
The DVD contains an autoplay menu which offers links to either to copy the film in Windows Media or iTunes, by choosing iTunes you are taken straight into the Store and where you enter your code. You'll need to download for that copy but the disc does include necessary WMV files - strangely there are 2. I can't tell you much more with Windows being Windows just before copying the file I am told that I require security component update and it was required before installing. I clicked the link and sent to a page on the domain drmlicense.one.microsoft.com which offered little information and a single button that couldn't be pressed. Shortly after Internet Explorer crashed. Good one. I spent a few minutes trying to find the update I'm looking for but its never stated and MS don't really promote the DRM side of things too loudly.
...
As far as the iTunes side goes, iTunes downloads as a 1.96GB M4V file, and uses FairPlay3 DRM which allows for syncing to up to 5 iPhones, iPods, AppleTV's and the other computers linked to your iTunes account. Video wise, the file has a frame size of 640x352, 2052kbps H264 and audio comes in 5.1 AC3 (strangely QuicktimeX lists only 2 channels though). The file also includes chapter marks with thumbnails and can be played in Quicktime or iTunes.
It's disappointing to not be a more standard 720 frame width, and of course no one likes DRM - but lets be honest, offering the movie in the first place is a good sign. Instantly I can use the film in a usable way outside of my PS3 and couch. I doubt I will ever watch it on my phone, but offering it in more than one format, shows the studio trying to be far more inclusive in the end usage process.